Carlos López Blanco
(Spain)
Opening Keynote
27 March – 09:30-10:30
Valle Inclán room
Digital Revolution, Data Economy and Security: challenges and opportunities
The Digital Revolution is producing the greatest transformation of our History since the Industrial Revolution of the late eighteenth century and involves radical challenges from the business, economic and social point of view, for companies , regulators, citizens and the whole civil society.
In this Digital economy, in which we are already immersed, the Data economy ( the new oil ), the source of Artificial Intelligence and the base of entire digital economy, new business models and the new ways of producing goods and services, plays a central role but is also a source of new challenges and risks for citizens, regulators and companies.Some of them are the privacy of our citizens , the protection of data or the rules of Artificial Intelligence and the new ethical and political dilemmas that it arises .
One of the main challenges in this landscape is Security in its double aspect of Safety and Security, whose limits are increasingly blurred, which will represent one of the central issues of all the social and regulatory debate in the coming years and which is permanently in the spotlight of the Public Opinion , from the Snowden case to the recent conflict between China and the US regarding the activities of Huawei.
Understanding all these challenges that the Digitalization and the Data economy represent from the economic, political, social and regulatory point of view will be essential for companies when they have to drive the requirements of digitization of all activities and businesses that will have to be addressed in a shorter period of time than we had anticipated.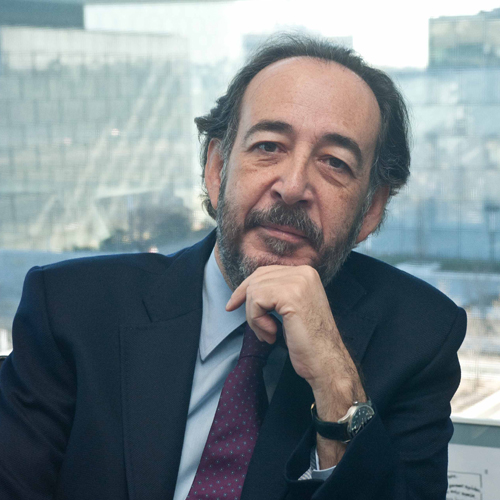 Mr Carlos López Blanco holds a degree in law from Valladolid University and a Business Executive degree from the IESE Business School.
From 1984 to 1989, Mr López Blanco worked as State Attorney in the Basque Region and at the Ministries of Education, Justice, Economy and Finance. In 1989, he moved to the private sector, where he was appointed Secretary of the Board of Directors and General Counsel at Construcciones Aeronáuticas, S.A. (CASA), Spanish company that was part of the AIRBUS Consortium. ). In 1992, he was appointed Director of Legal Affairs at IBM Spain and from 1995 to 2001 occupied the position of General Secretary of Airtel, which later became Vodafone Spain.
From 2002 to 2004, he held the position of Secretary of State for Telecommunications and Information Society in the Spanish Government
On July 2007 Mr López Blanco was appointed Director of the International Office of Telefónica, S.A and, currently, he is Chairman of the Digitalization Commitee of the Spanish Chamber of Commerce and member and a member of the Board of Directos of Telefonica Argentina.